The Best Dental Solution Nowadays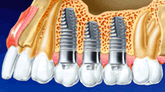 Multiple Dental Implants
 are an optimum solution for multiple missing teeth. Implant supported dental bridges do stay secure and strong. It is comfortable, natural and feels like natural teeth.
Dental Implant supported bridge have the following advantages:
Dental Implants look, feel and perform like natural teeth.
The adjacent teeth are not compromised or prepared to support a bridge.
Dental Implants  Preserve the sorrounding bone.
Dental bridges attach securely to dental implants.
It prevents resorption of bone.
Recurrent wear around abutment which often happens is eliminated.
Self confidence of the patients are largely improved.
The difference in price between Dental Implant Systems is rarely more than $100. The design of new modern Dental Implants are very similar nowadays. Remember, if you are being charged thousands of dollars more, you are being charged this extra for labour, not for a better brand. Of most importance is good planning and an experienced surgeon.
Multiple dental implants are ideal for those missing several teeth. With the loss of multiple teeth, it is crucial to replace the missing teeth in order to prevent bone deterioration and facial structure collapse and changes.
Dental Implants vs. Traditional Dental Bridge
Dental implants are now considered the standard of care for those missing  teeth. In the past, the most commonly used solution is a fixed dental bridge or a removable partial denture that is held in place by wire clasps that unfortunately need to wrap around healthy teeth.
A dental bridge requires filing down the two surrounding healthy teeth so that they may act as anchors for the artificial teeth that are then cemented onto those two surrounding teeth. The damage to the surrounding teeth is permanent.
Further, studies often show that these damaged teeth eventually fail due to the stresses placed on them by the bridge. The result is the eventual loss of those teeth and an even longer bridge with an even shorter life span. A removable partial denture is often unstable, uncomfortable and also places wear and stress on the remaining healthy dentition.
Multiple dental implants offer a  superior solution because they restore the lost dental roots. It is not always necessary to use an implant to replace each tooth. Often three or more teeth can be replaced with only two dental implants. Plus, the surrounding healthy teeth are unharmed.
Multiple Dental Implants have the strength of natural teeth and patients are able to enjoy any type of food. A fixed bridge attached to implants works especially well for back teeth that are missing, as it affords the type of stability that back teeth need for proper chewing of food. It will also prevent deterioration of the jawbone and maintain the appearance and structure of the face and bone.
Call us on 1300 850 072 today to find out more.
Book in for your initial consultation
or call us today on 1300 721 184
Why not ask your Dental Implant Questions?