Dental Implant Overseas Thailand
Getting dental implants overseas Thailand isn't as cheap and magnificent as you think
It's becoming a very common thing for Aussies to go on an overseas trip to get their dental implants done in countries like Thailand and the Philippines. Overseas dental tourism is widely promoted by a few oral surgeons but there are still a lot of risks associated with this practice.
Not everything is about money and there is nothing more important than the safety of your own health. Sure it might be slightly cheaper to get it done overseas, but don't forget that you get what you pay for.
Overseas dental implant practitioners are not governed by rules and regulations in Australia and they don't adhere to the strict health and safety codes that are upheld by the Australian Dental Association. So, you never really know the quality of work that you are going to get overseas and that itself is a huge risk.
The difference in price between Dental Implant Systems is rarely more than $100. The design of new modern Dental Implants are very similar nowadays. Remember, if you are being charged thousands of dollars more, you are being charged this extra for labour, not for a better brand. Of most importance is good planning and an experienced surgeon.
IT DOESN'T HURT TO HAVE A FREE SECOND OPINION OR QUOTE BEFORE ANY SURGICAL PROCEDURE.
Costs of Dental Implant in Australia vs. Overseas Thailand
If you compare the prices from a glance, it will seem like it's more expensive to get the procedure done outside of Australia. However, keep in mind that private health insurers don't cover overseas medical costs. When you subsidise the amount that is covered by Medicare or any other insurance provider, the cost of a local dental implant procedure will be equivalent to or even cheaper than overseas surgeries.
Plus, don't discount the fact that you will get absolute peace of mind knowing that you are in the hands of fully accredited dental specialists.
and 3 Factors to consider: 

1. The "Dental Implant in 1 Day or a Week" commonly advertised overseas to save time is not only controversial but rarely properly indicated. It is important to respect the time and the biological factors of the treatment. Ossseointegration usually takes at least 2 months to occurr and during this period it is necessary at least 3 visits to complete the treatment.

2. While most surgeries go as planned, the fact is that overseas dental implant practitioners are not under the control of Australian Dental rules and regulations, and they are not required to adhere to the strict health and safety codes put in place bt the Australian Dental Board.

3. What would you do if you have any issues with your dental implant placed overseas? Travel there again to fix it or have another surgery?

When you get your dental implants locally, you will receive ongoing treatment, care and support throughout the length of your recovery and beyond.

This is not the case with overseas dental implant surgeries. For example, if the patient requires multiple treatments, it won't be possible to keep flying across the ocean until the treatment is 100% complete. Even if you do get the operation done within a couple of days, it'll still be a very rushed job, which would create unfavourable results for you.

You will find lower dental implant cost here in Melbourne and Sydney with us. Safe, high quality Dental Implants procedures are much closer than you think!
Thinking about going overseas or Thailand for Dental Implants? Check below and compare the major Thailand Dental Clinics prices to ours. You will find that they are almost identical and sometimes we have even lower fees.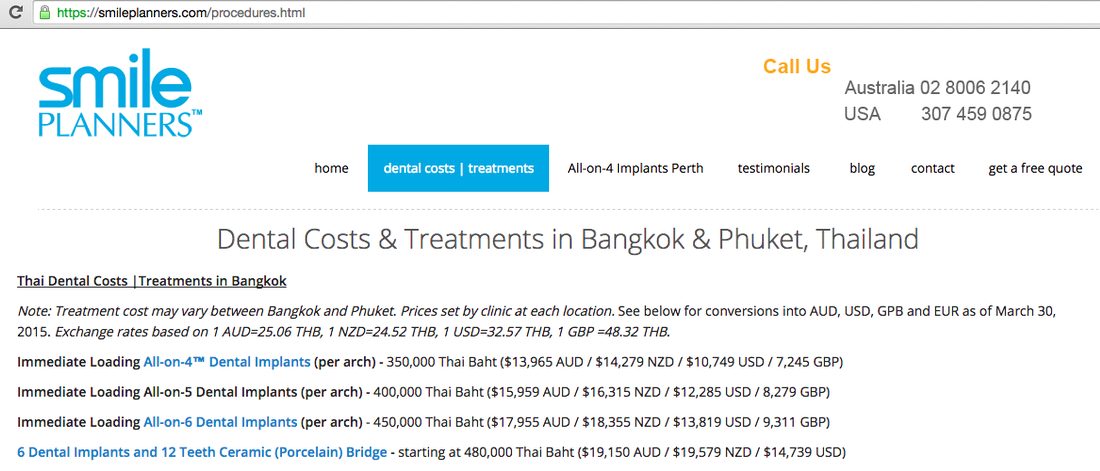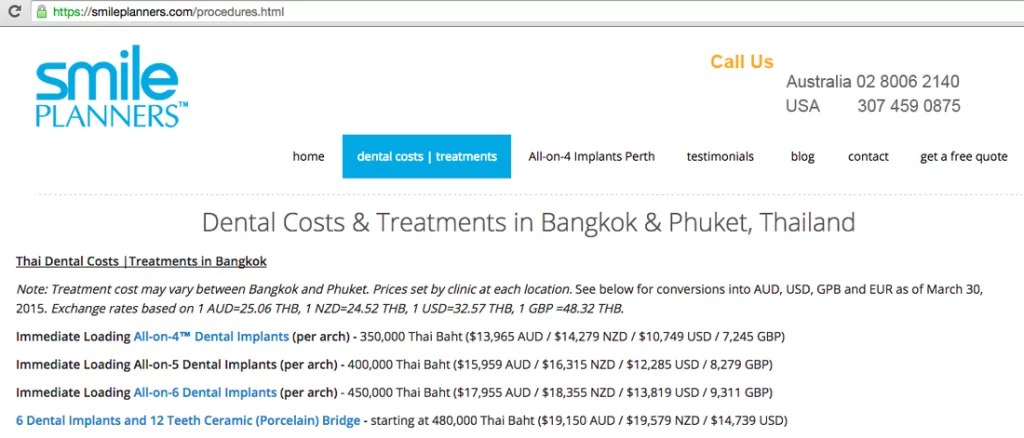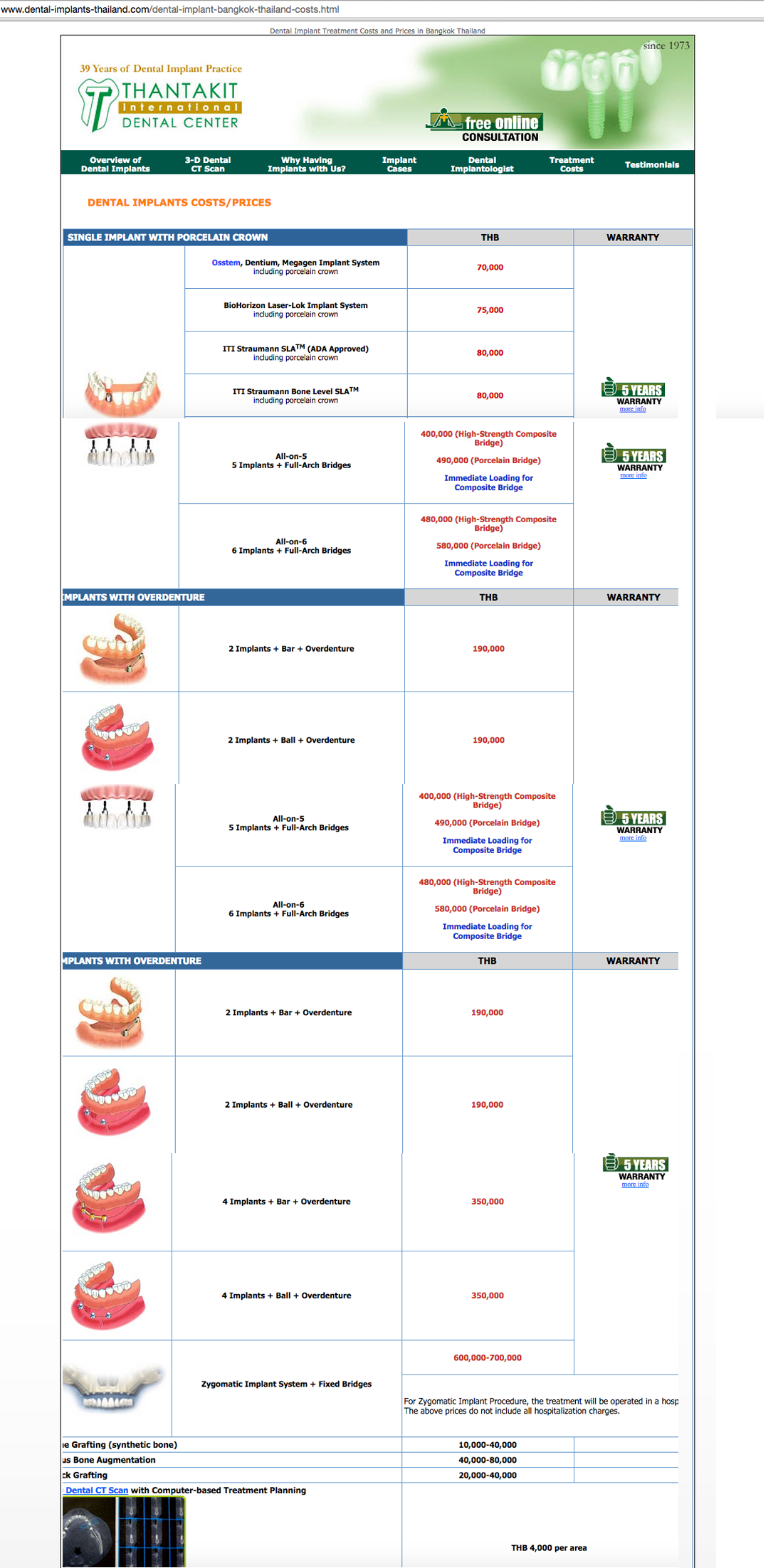 COMPARE THE ABOVE PRICES WITH OURS


Discount may apply for cases requiring more than 2 implants
Book in for your initial consultation
or call us today on 1300 721 184
Find below direct links to the above Thailand websites for more details and compare: 
http://www.bangkokdentalcenter.com/thailanddentist/fees-promotions-dental-implants.htm?gclid=CNCM5oXu4cYCFQwAvAodU5MOBg
https://smileplanners.com/thailand-dental-implants.html
http://www.thailanddentalhospital.com/dental_hospital/fees_dental-implants.htm
http://www.bangkoksmiledental.com/price/price-dental-implant.html
http://www.dental-implants-thailand.com/dental-implant-bangkok-thailand-costs.html
Why not ask your Dental Implant Questions?